Monday, June 08, 2009
Portable computing - netbooks and next
Portable, solid state memory, instant on. No moving parts so you don't have to worry about drive heads bumping. The year was 1998. It was my
NEC MobilePro 750c
, on the right below next to my latest portable, an
Asus Eee PC 1000HE
: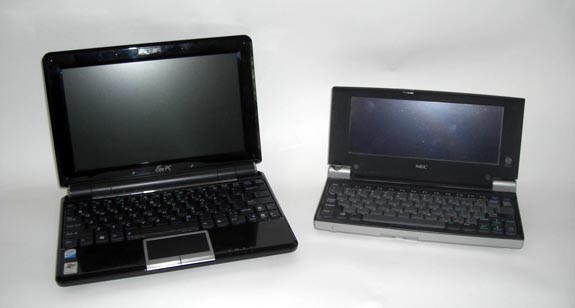 The MobilePro display is 640 x 240 256 color LCD touchscreen. Yep, it came with a stylus so you can tap, click, and drag directly on the screen. It also has character recognition software so I could write (
handwriting
) using the stylus. With the cover closed, you can press an external button to record audio ("Note to self: pick up a gallon of milk."). Weighs in at 1.88 lbs.
It came with Microsoft baby Explorer and Office. Internet connection was a built-in 33 Kbps modem. Kind of interesting to think about if wireless connections were available then.
True: I wrote staff reviews on it while I was on vacation in Maui.
BTW, the Eee PC is nice little machine, too. Prone to fingerprint smudges on the shiny shell, but no downside otherwise. Added the suggested 2G memory upgrade. Easy install.
Site Change
I reworked the info-design site a little. It's been a few years now that I've been essentially blogging instead of anything else on this site (web logging since 1995!). So, I've moved over to a completely blog front end. I have a historical link on the left side.
Labels: equipment